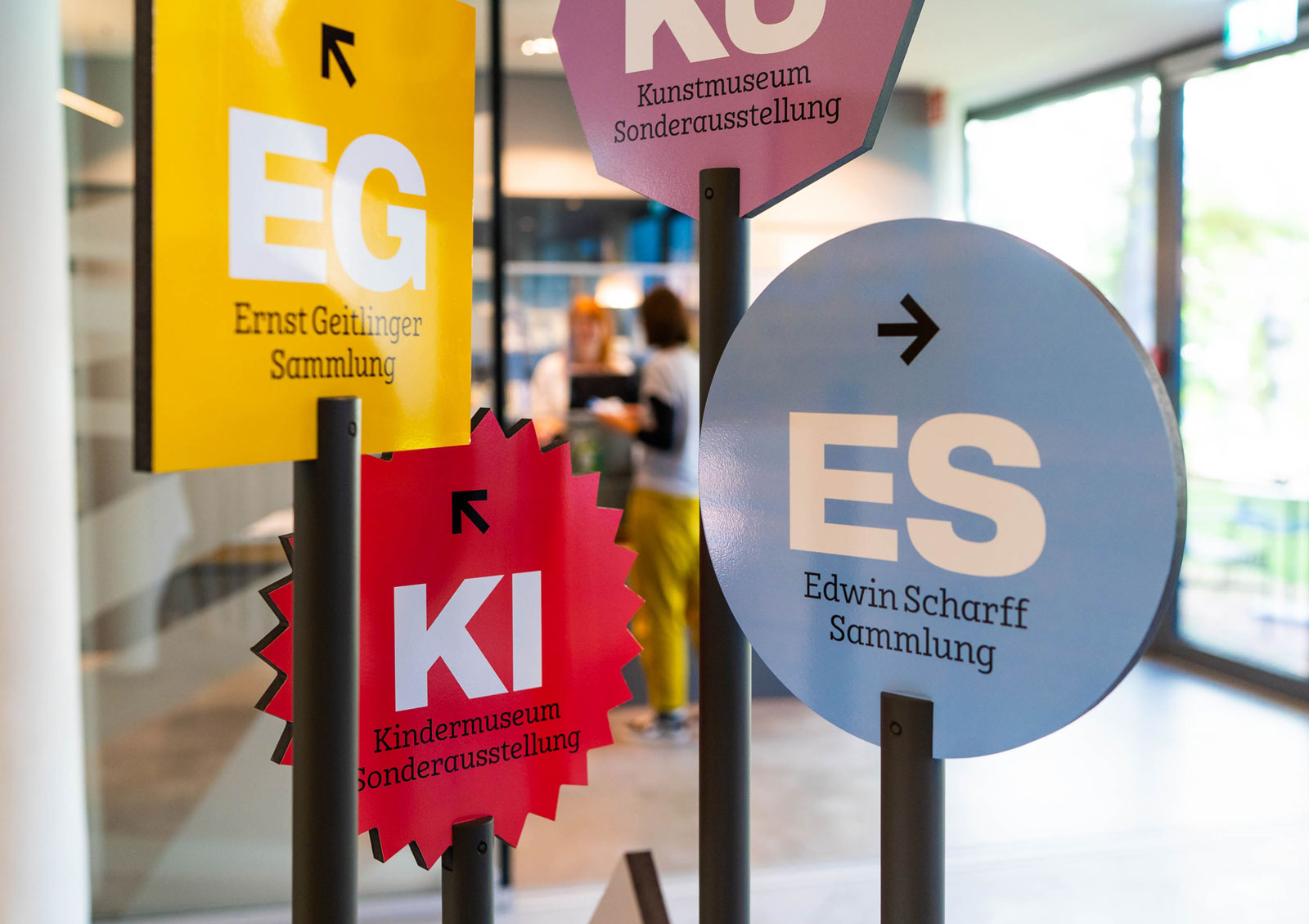 Information on Covid-19
It is very important to us that our visitors feel comfortable and safe with us! Therefore, there are still adapted conditions for your visit to the Edwin Scharff Museum.
Proof vaccination, test or recovery
According to the current Corona regulation, the 3G rule (Geimpft/Vaccinated – Genesen/Recovered – Getestet/Tested) applies to your visit to the museum.
In the case of a rapid antigen test, the test must have been carried out no more than 24 hours previously. In the case of a PCR test, the test must have been carried out no more than 48 hours previously.
Children up to and including five years of age are exempt from compulsory testing.
For more information on the ease of restrictions, please visit the Neu-Ulm County page.
The closest test center can be found in Krankenhausstrasse Neu-Ulm in front of the Donaucenter – opening times: Monday to Friday, 8 a.m. to 8 p.m.
The mask requirement remains in effect.
Art Museum:
If there is an incidence rate of 35 or higher in Neu-Ulm, you must register to visit the Art Museum via
esm-buchungen@post.neu-ulm.de
or by telephone from Mondays to Fridays via +49 731 7050-2520.
We kindly ask for your full contact information.
Please check the current incidence rate before your visit. This can be found on the RKI website: RKI COVID-19 Germany (arcgis.com)
Children's Museum:
Please book a reliable time slot reserved for you to get access to the Children's Museum – regardless of the incidence rate – via
esm-buchungen@post.neu-ulm.de.
We kindly ask for your full contact information.
For the visit to the children's museum we ask for a registration at least 2 days in advance by e-mail. Unfortunately, we cannot guarantee timely processing for requests made at shorter notice. For this we kindly ask for your understanding.
Your booking options are:
Tuesday, Wednesday:
1 p.m. or 3.15 p.m.
(visiting time:
1 hr 45 min)
Thursday, Friday:
1 p.m. or 3.30 p.m.
(visiting time: 2 hrs)
Weekends and holidays:
10 a.m., 12.30 p.m. or 3 p.m.
(visiting time: 2 hrs)

For persons 15 years and older, there is an obligation to wear a medical mask. For children aged 6-14 years, there is an obligation to wear a community mask.
We ask the parents of children under 6 years of age to encourage the younger ones to wear a mask as well, if possible.
If you are unable to wear a mask, please provide us with your doctor's certificate.
If you have any questions concerning your visit, please feel free to ask.
We look forward to welcoming you back in the museum!
---
Opening hours

Monday: closed
Tuesday & Wednesday: 1 p.m.—5 p.m.
Thursday & Friday: 1 p.m.—6 p.m.
Saturday & Sunday: 10 a.m.—6 p.m.
For registered groups, school classes and kindergartens we offer the opportunity to visit the museum outside normal opening times.
Special opening hours
Holidays 10 a.m. — 6 p.m.
Closed on Carnival, Shrove Tuesday, Good Friday, December 24th and 31st
If you are part of a registered group, our educational staff will welcome you at the group entrance. For morning and evening visits outside opening hours, we would ask you to make sure the whole group arrives together, because the group entrance has to be shut again.
In the foyer a wheelchair and walking frame are available if required.
During museum opening hours, the foyer is where you can have a look at the shop, purchase season tickets and vouchers and pay the admission fee.
The toilets, cloakroom and lockers are located in the basement, which can be accessed via the stair or lift.
Admission

Regular € 5,— 1 adult with the maximum of 3 children
Family € 9,— 2 adults with the maximum of 6 children
Please note: Children and teens up to the age of 18 are free of charge. However only a maximum of three children per adult is allowed to get access to the museum.
Reduced € 4,— Students, schoolchildren over 18 years of age, senior citizens over 65 years of age, people with disabilities (free admission for the designated accompanying person), welfare recipients, Professional Association of Visual Artists (Berufverband Bildender Künstler), holders of the Ehrenamtskarte, holders of the artcard
Verfication is required at the cash desk.
Free — Verband Deutscher Kunsthistoriker e.V., ICOM, Deutscher Museumsbund, Bundesverband Museumspädagogik e.V., Ulm Card, Press, teachers of the AK Schule und Museum Ulm/Neu-Ulm with international teacher's ID
Verfication is required at the cash desk.
For your visit we offer you our media guide free of charge at the cash desk (including tours in German and English).
Location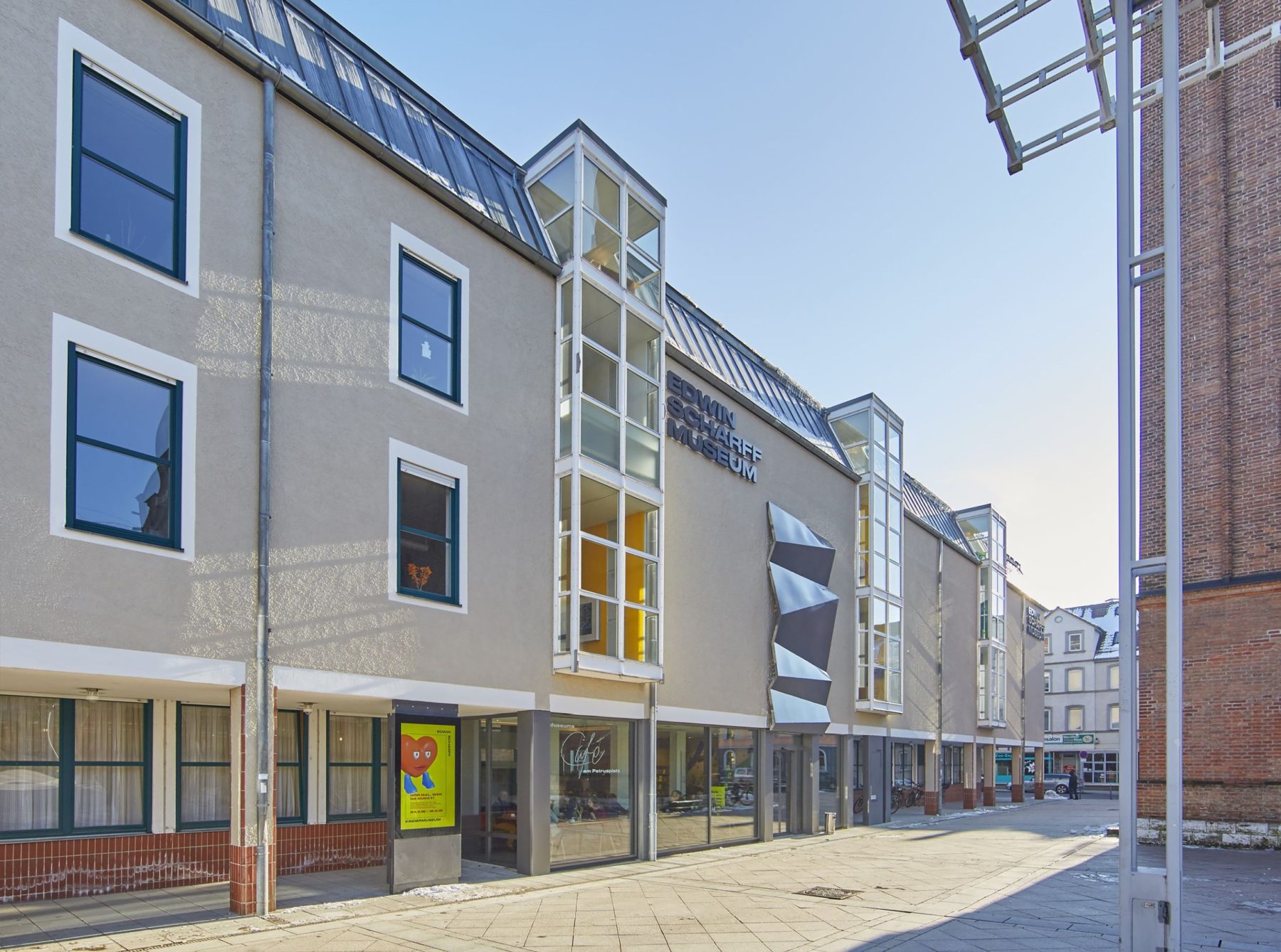 Petrusplatz 4
89231 Neu-Ulm
Germany
T. +49 731 7050-2555 (museum's counter)
T. +49 731 7050-2520 (administration)
esm@neu-ulm.de
The Edwin Scharff Museum is located in Neu-Ulm's city centre and close to the Neu-Ulm railway station and Ulm city centre.
BY FOOT
5-8 minutes from Neu-Ulm station (barrier-free / elevators available)
12 minutes from Münsterplatz Ulm
20 minutes from Ulm main station (barrier-free/lifts available)
PUBLIC TRANSPORTATION
Line 5 to Petrusplatz
Line 7 to Schützenstraße
BY CAR
Follow the signs: Museen am Petrusplatz
underground car park Petrusplatz, access via Hermann-Köhl-Straße
PARK & RIDE
P+R car park at Neu-Ulm railway station (150 parking spaces)
Accessibility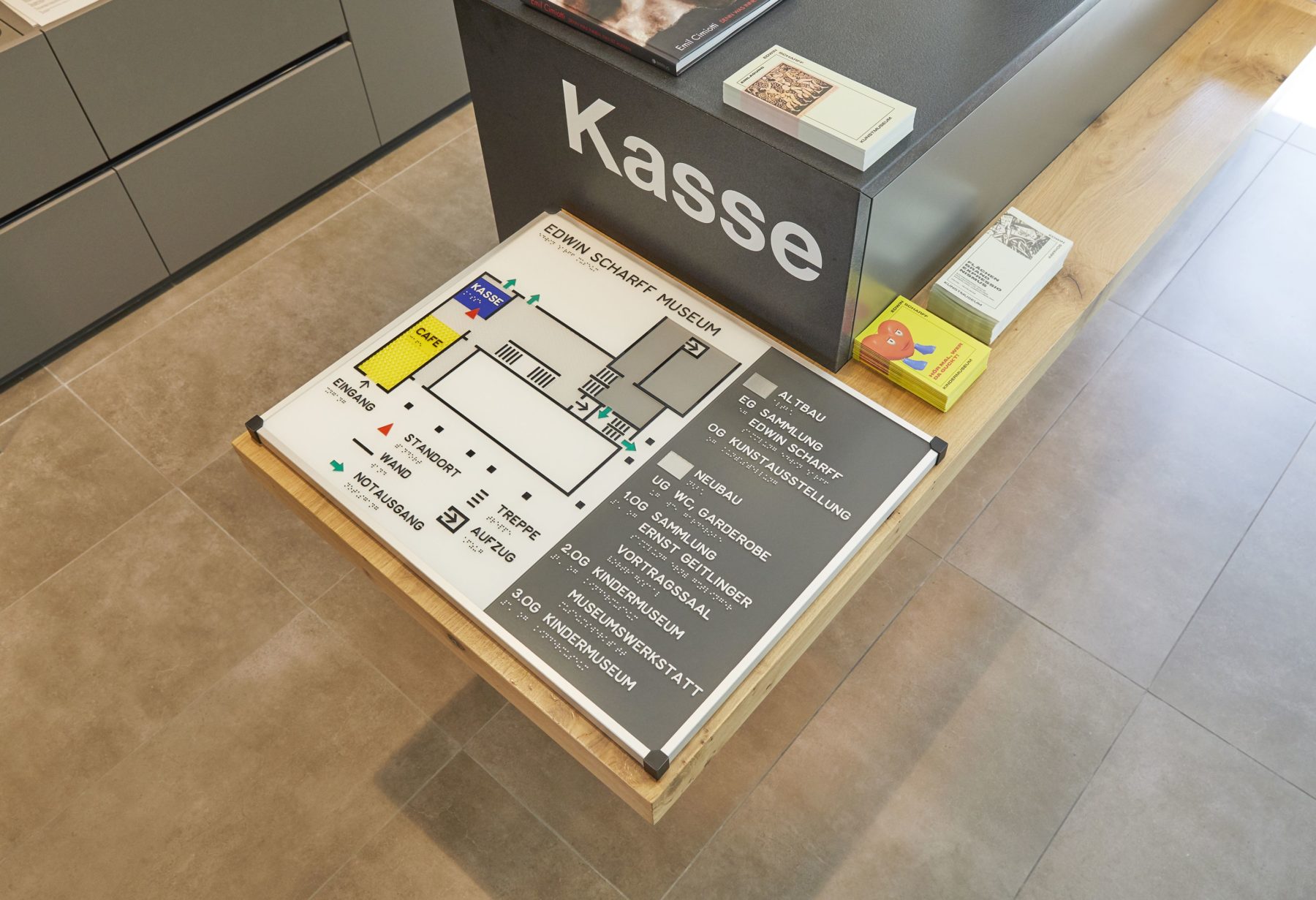 We want our museum to be a welcoming place, so we try to make access to the museum and exhibitions accessible for everyone.
Barrier-free access to the museum is possible via the main entrance. All rooms and floors inside the museum are accessible by lift. There is a tactile floor map by the cash desk to give you an overview of the layout of the building.
There is no guidance system for visitors with limited vision. We therefore recommend visiting the museum with an accompanying person.

Parking
There are accessible parking spaces in the underground car park on Petrusplatz and free parking is possible at the St. Johann Baptist church /Johannesplatz in Neu-Ulm.

Wheelchair and walking frame
We keep a walking frame, a wheelchair and portable seating ready for our visitors.
Please note: In the café you will also find a charging facility for an electric wheelchair.

Accessible restroom with baby changing tray, cloakrooms and lockers
Accessible facilities available in the restroom in the basement, as well as cloakrooms and lockers.

Assistance and guide dogs
We welcome assistance and guide dogs with a valid ID card.
Museum Café at Petrusplatz —
A socially inclusive café of Lebenshilfe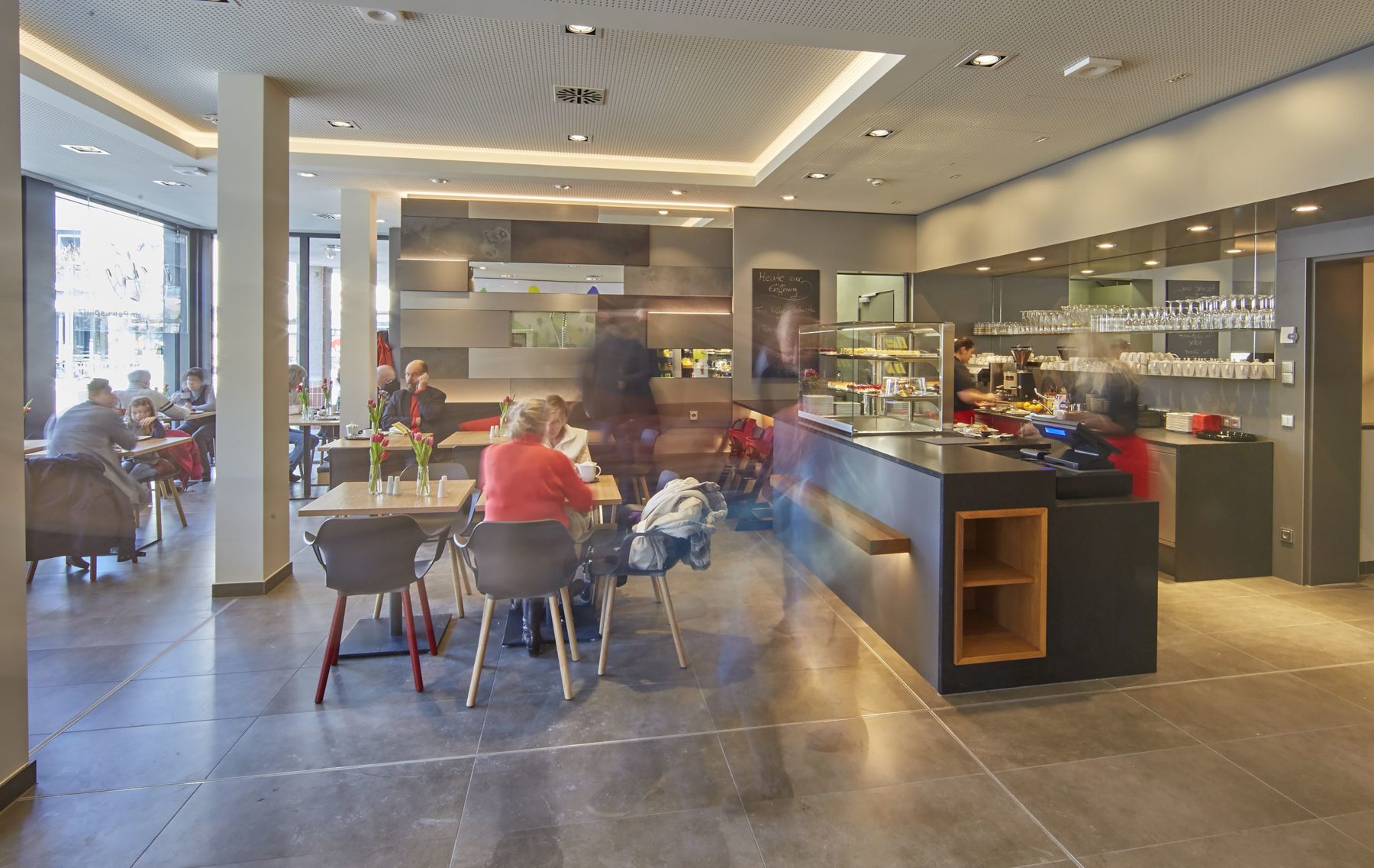 We are delighted about our partnership with Lebenshilfe Donau-Iller who operate the café and offers regional products and a small selection of appetising food and beverages. The café also attracts people in the summer with its sunny corner in the museum's courtyard.
You are welcome to pre-order or make a reservation at the café by calling
+49 0731 88070881. Each dish is also available to take away.
Good to know: In the café you will also find a charging facility for an electric wheelchair.

Opening hours
Monday: closed
Tuesday & Wednesday: 10 a.m.—5 p.m.
Thursday – Sunday: 10 a.m.—6 p.m.
Museumscafé am Petrusplatz
Petrusplatz 4
89231 Neu-Ulm
T. +49 0731 88070881
museumscafe@lhdi.de
Shop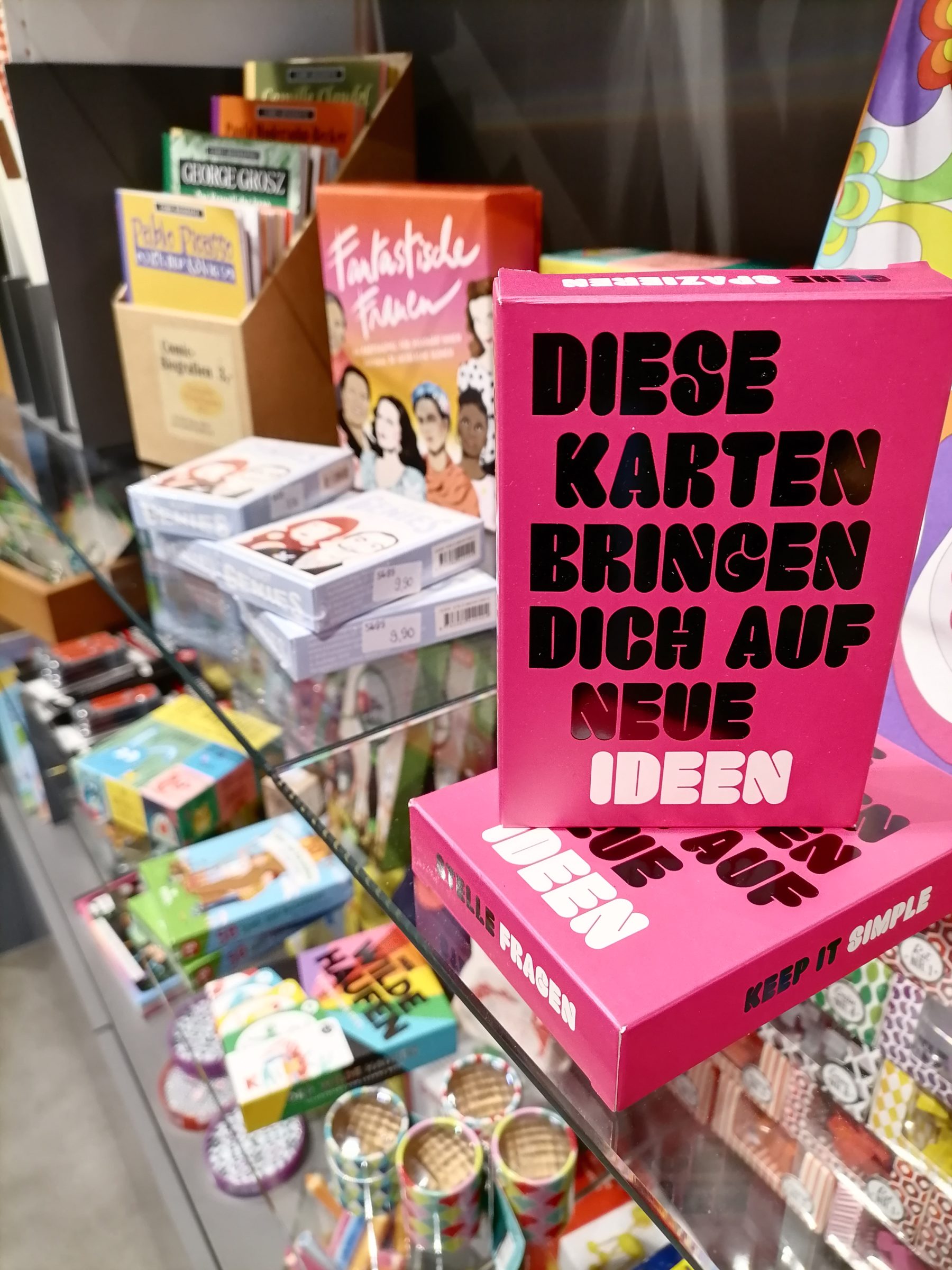 If you are looking for a souvenir or an attractive little present, then have a look at our museum shop where you will find a selection of items for young and old. Treat yourself or someone close to you with something from our extensive product range which includes gift vouchers, postcards, season tickets, catalogues and literature on the special exhibitions as well as some beautiful pieces of craftwork.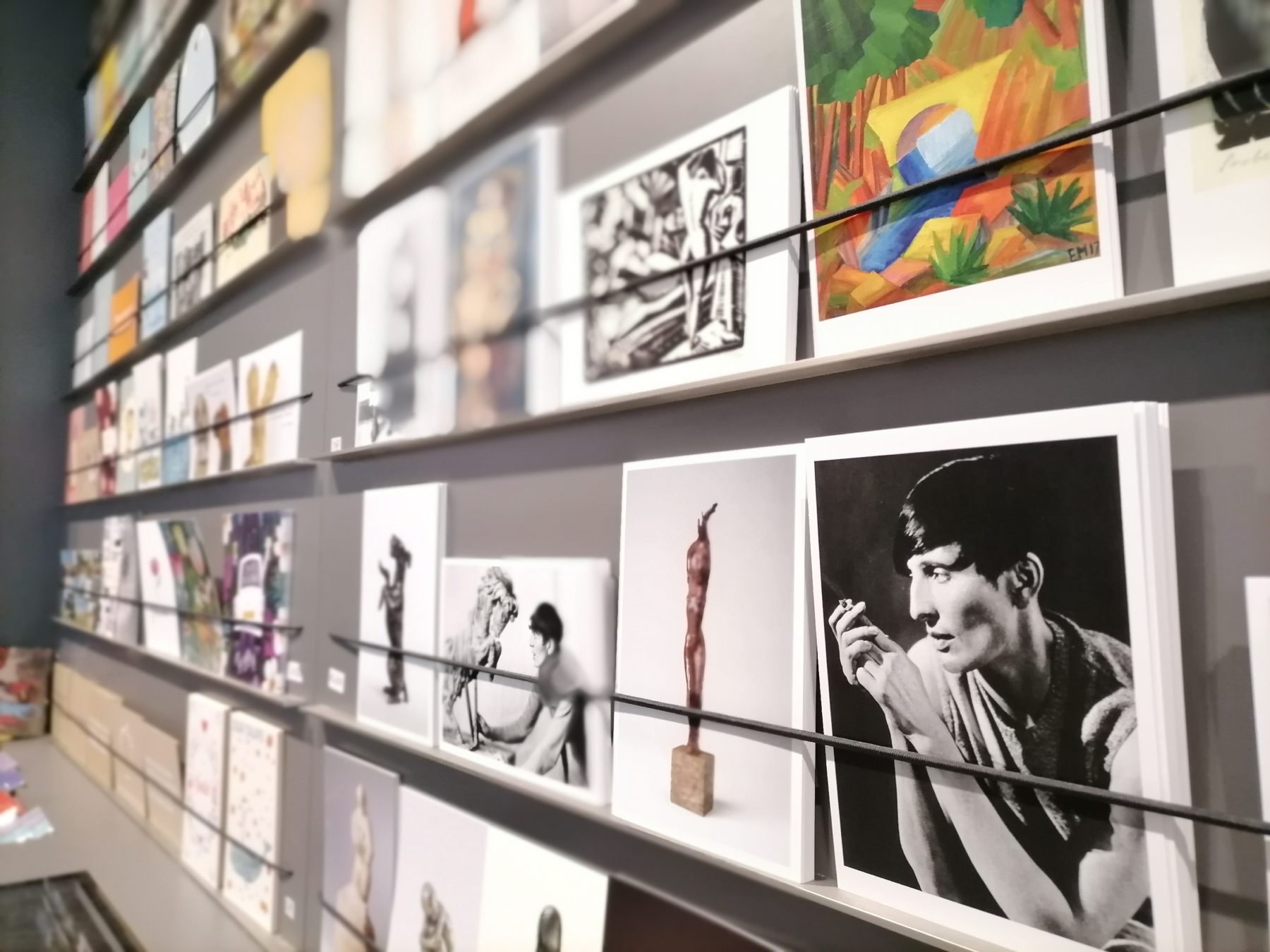 Our tip:
The museum is also open on Sundays and many public holidays, we are the ideal place to find those last-minute gifts.
By the way: The shop is run by members of the Friends of the Museum association and all profits go exclusively to the benefit of the museum.
We look forward to your visit!