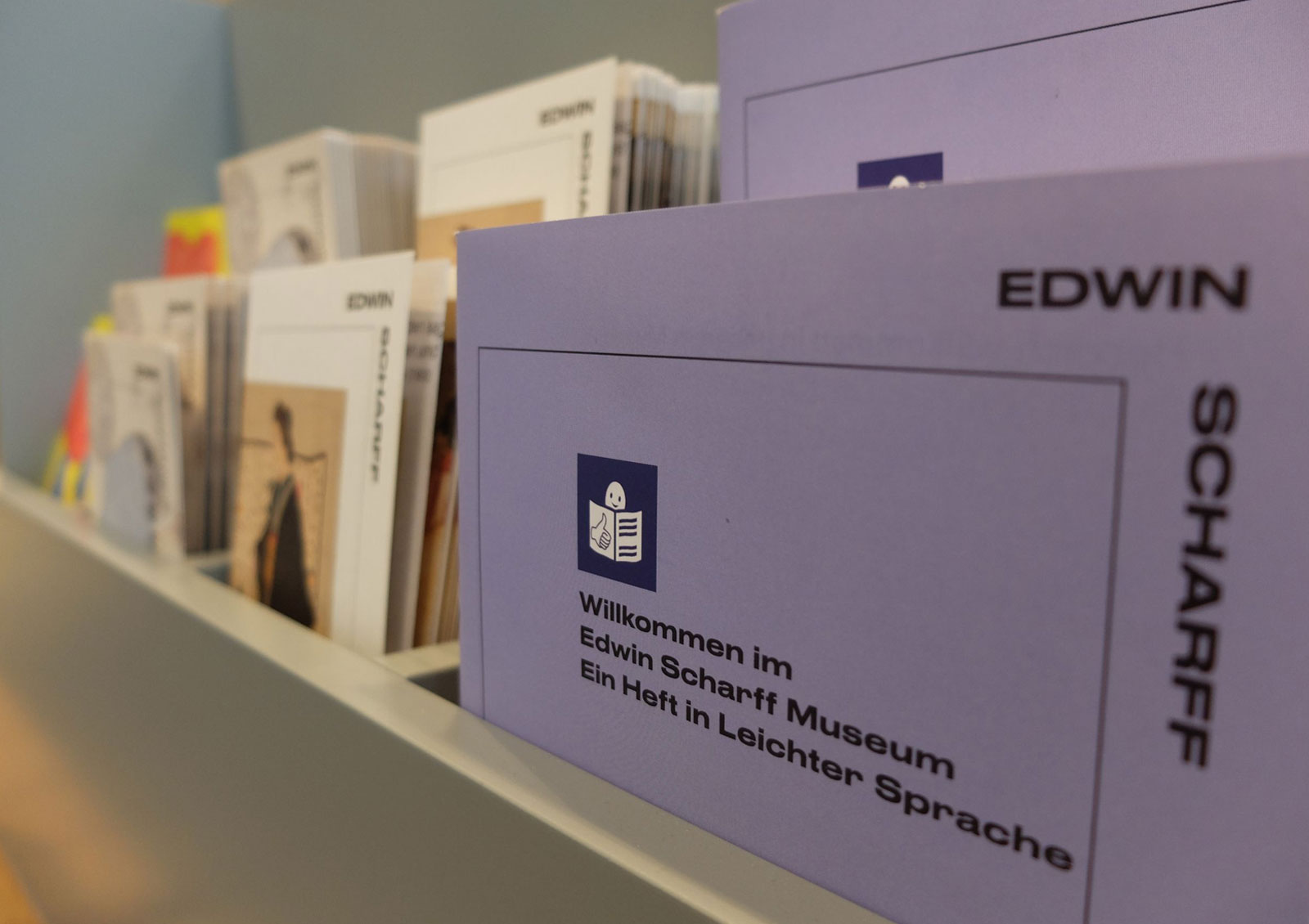 Participation and accessibility
Edwin Scharff Museum
We would like everyone to feel comfortable in our museum. Hence, we try to meet the needs of all people and provide barrier-free access to the museum. We have set ourselves the goal of making our exhibitions inclusive and participatory, so that as many visitors as possible can experience a great time and find new inspiration at the Edwin Scharff Museum. Our claim is derived from the UN Disability Rights Convention, which was ratified in 2009: Anyone interested should be given the opportunity to actively participate in cultural offerings, regardless of their individual social situation, age and ethnic background.
In doing so, we are acting on behalf of the city of Neu-Ulm, which strives for equal social interaction and would like to be perceived as an inviting and family-friendly city.
Do you have any comments and suggestions on the topic of accessibility and participation? Then you are welcome to contact us. We look forward to hearing from you by phone via +49 731 7050-2555 or by e-mail at esm@neu-ulm.de.
---
"Tourism for all – Accessibility certified"
"Reisen für Alle/Tourism for all" is a valid certification for accessibility in tourism in Germany. For visitors of the museum, all necessary information have been collected by a trained surveyor and evaluated with clear quality criteria.
The information are available in the following reports:

---
The Edwin Scharff Museum is part of the network "Museen inklusive!".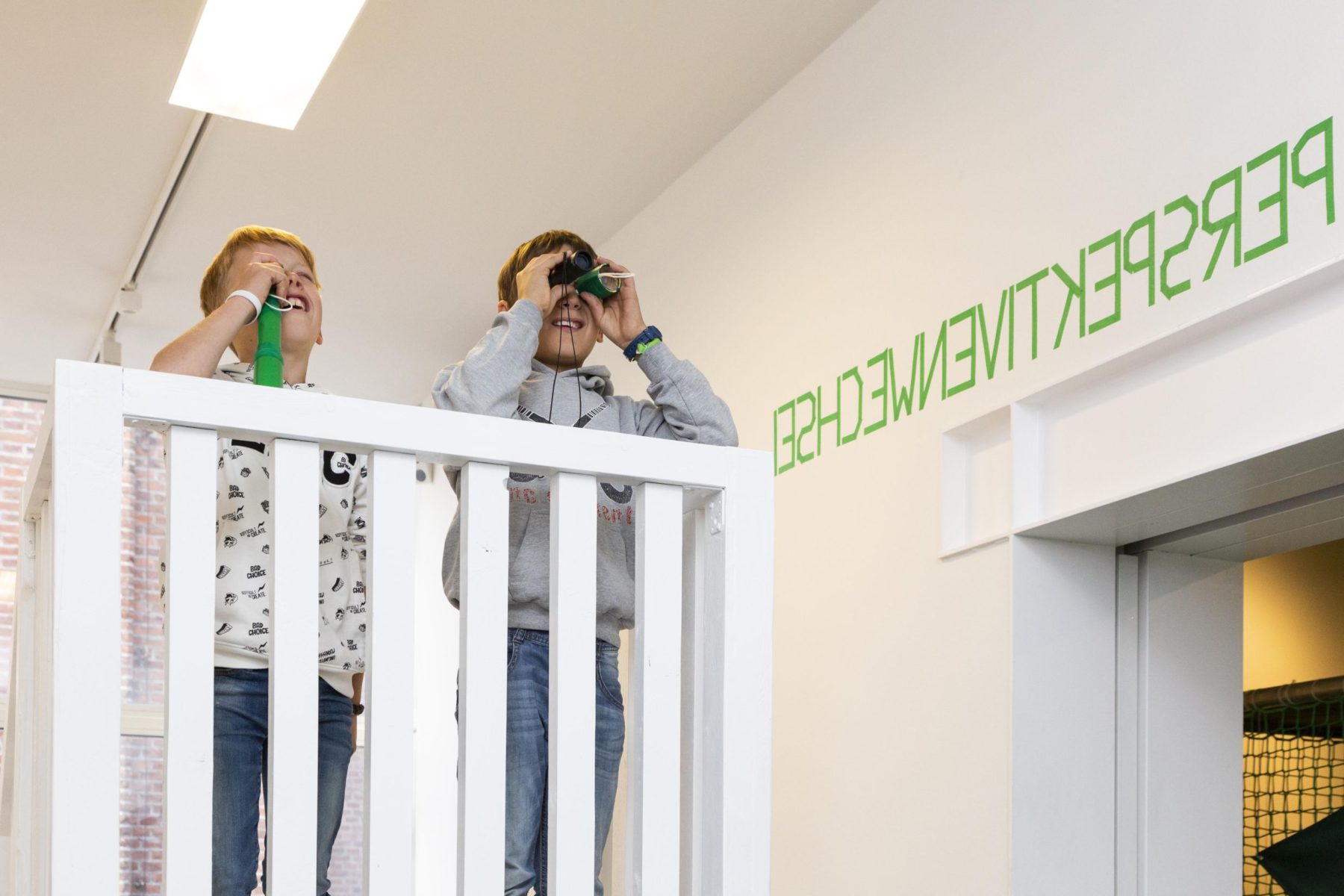 ACCESSIBILITY AND ORIENTATION
The museum is barrier-free accessible via the main entrance. Inside the museum you can reach all rooms and floors by lift.
A tactile orientation map will give you a first overview of the structure of the building, located at the cash desk. Here, you may also receive a brochure in German easy language with information about the museum.
Please note: The museum does not have a floor guidance system for the blind. We therefore recommend that you visit the museum with an accompanying person.
On our website you will also find content in German easy language.
Practical information about parking or taking along guide dogs can be found under the menu item Visit.
---
Educational formats and offers
GUIDED TOURS WITH A SPEECH-TO-TEXT INTERPRETER FOR PEOPLE WITH HEARING IMPAIRMENTS
On selected dates, our public guided tours in the art museums are accompanied by a German speech-to-text interpreter who simultaneously writes down the guide's explanations for hearing impaired people.
The speech-to-text interpreter gives people with hearing impairments the opportunity to read what is being said at the same time, thus giving them the certainty that they have understood everything correctly. This makes it easier to actively participate in the tour, ask questions or express opinions.
The guided tours are marked in our calendar.
Apart from the entrance fee, there are no other fees.
Upon request, we also offer private guided tours with a speech-to-text interpreter in German, subject to prior arrangement (at least four weeks in advance).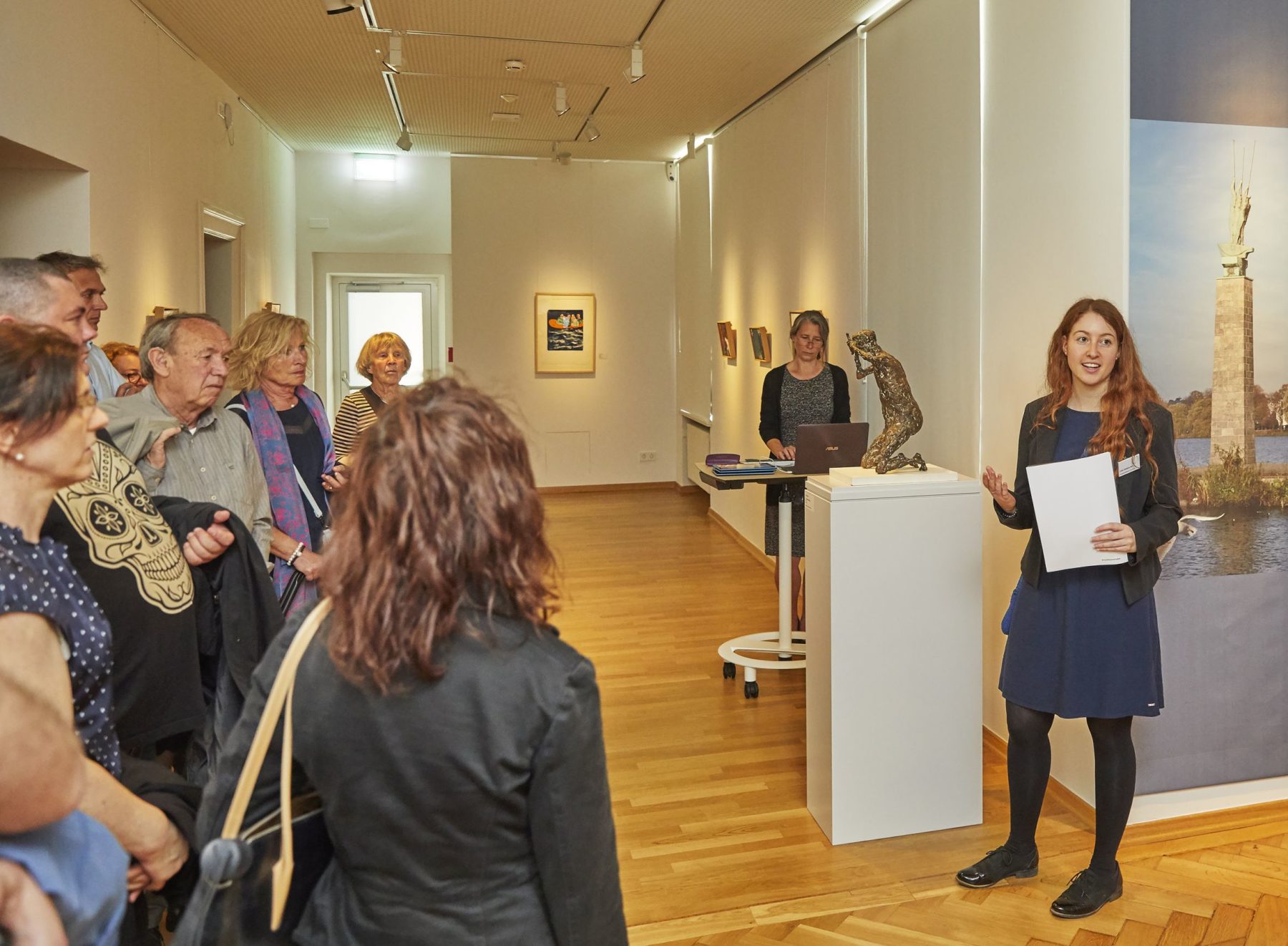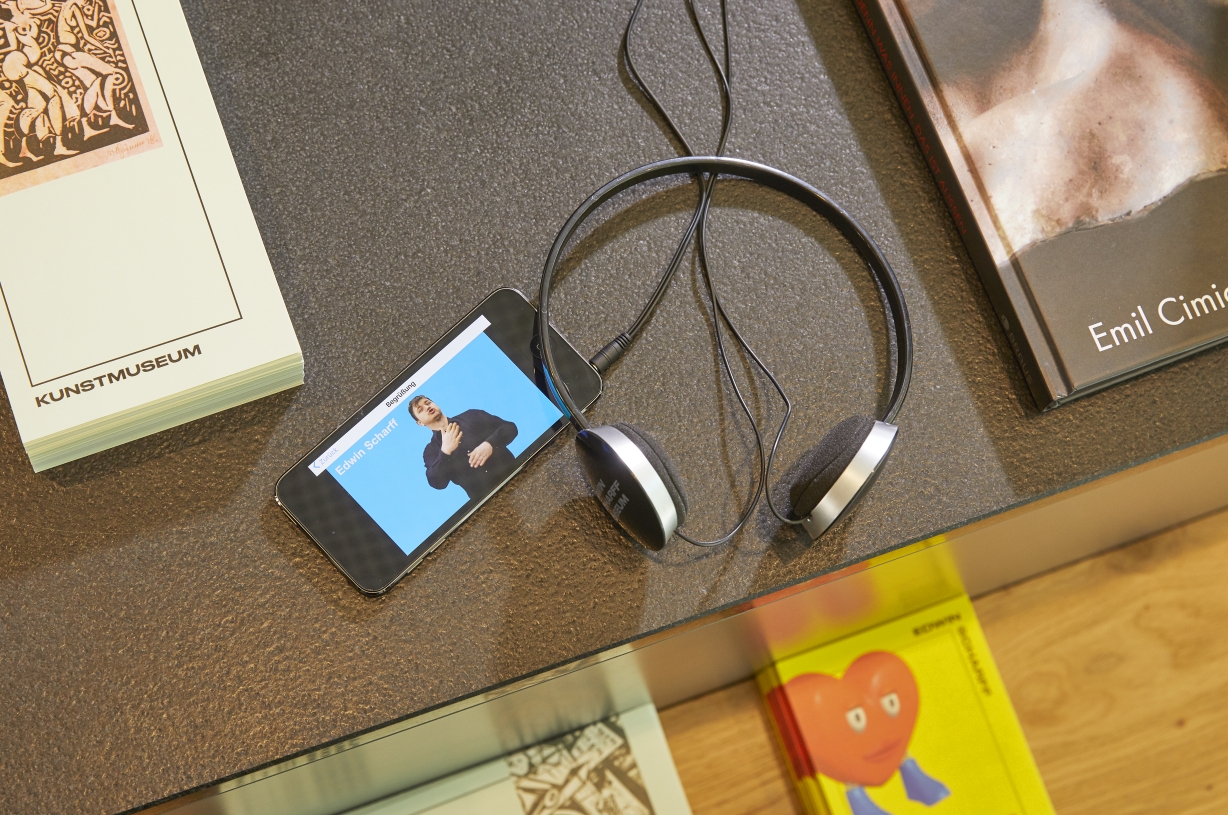 Guided tours for blind and visually impaired visitors
We offer groups with blind and visually impaired visitors the opportunity to get to know the exhibition on Edwin Scharff in a guided tour. Please register early (at least four weeks in advance). Please call us or send us an e-mail so that we can find out more about your group and explain our current offer.
Tours in easy language
We are currently working on an offer that includes guided tours in German easy language, with detailed descriptions of the work and with a written interpreter. These tours will be specially marked in our program.
Media guides
Our versatile media/audio guide (iPod) will make your visit even more informative and entertaining: You will learn a lot of interesting facts about the museum, its various sections and especially about Edwin Scharff and his works. Experience what Edwin Scharff, as a penniless art student, wrote to a patron or which stories lie behind some of his works of art!
People with visual impairments have the opportunity to get to know the museum and the collection via a separate descriptive audio track. We also offer an audio track in German, English, German easy language and for families with children.
For our hearing impaired museum visitors, videos in German sign language are also integrated into the guide.
The media guide is available free of charge for borrowing at the museum. You can find the tour in German also an app in the Google Play Store and in the Apple Store.
Media stations
Our media stations can be found in the Permanent Collection on Edwin Scharff and his contemporaries on the ground floor of the art museum.
In the corridor and in rooms 2, 3 and 4 you can call up information on the exhibited works and the museum collection. What do artists and connoisseurs think about Edwin Scharff these days? Take a closer look!
The media devices provide an entertaining way of deepening the information about the works on display and the themes with which Edwin Schaff dealt. With the help of short audio and video contributions, texts and pictures, the stations provide vivid information about Scharff's life and work and at the same time give general information about the history of sculpture or bronze casting.
Please note: The media stations are also accessible to our visitors in wheelchairs. The contents of the individual media stations are not completely barrier-free. However, they offer different access to the information by using text, audio and video contributions. Just ask us! Our team at the cash desk and the supervisory staff in the exhibition rooms will be happy to help you with the devices.
Tactile brochures
You can find two tactile brochures for people with visual impairments in the exhibition on Edwin Scharff. Thus they complete the information on two important works by Edwin Scharff. As the brochures contain not only Braille writing but also text in enlarged normal font, all visitors are invited to read and look at the brochures.