Special exhibition art museum
—
outdoor spaces - Inside views
–
Projects, ideas and questions about public space
Museums offer art a protected free space, but in public space there are completely different requirements. This is something that has preoccupied artists time and again. In the Edwin Scharff Museum in Neu-Ulm, the exhibition presents six different perspectives on this. The selected works by Max Erbacher, Oliver Gather, Gigo, Christian Hasucha, Uschi Huber and Dagmar Schmidt focus on what happens in the urban environment. They question the perception of public space, outline possibilities for sculptures and actions, document and reflect events set in motion and situations perceived. The special feature: All of them have already been guests in Neu-Ulm and led visitors through the city, taking different perspectives as part of the "artistic strolls" through Neu-Ulm. Their artistic strolls enabled new views of the supposedly familiar city, encouraged the participants to open perception, to exchange about the urban space and the art presented there.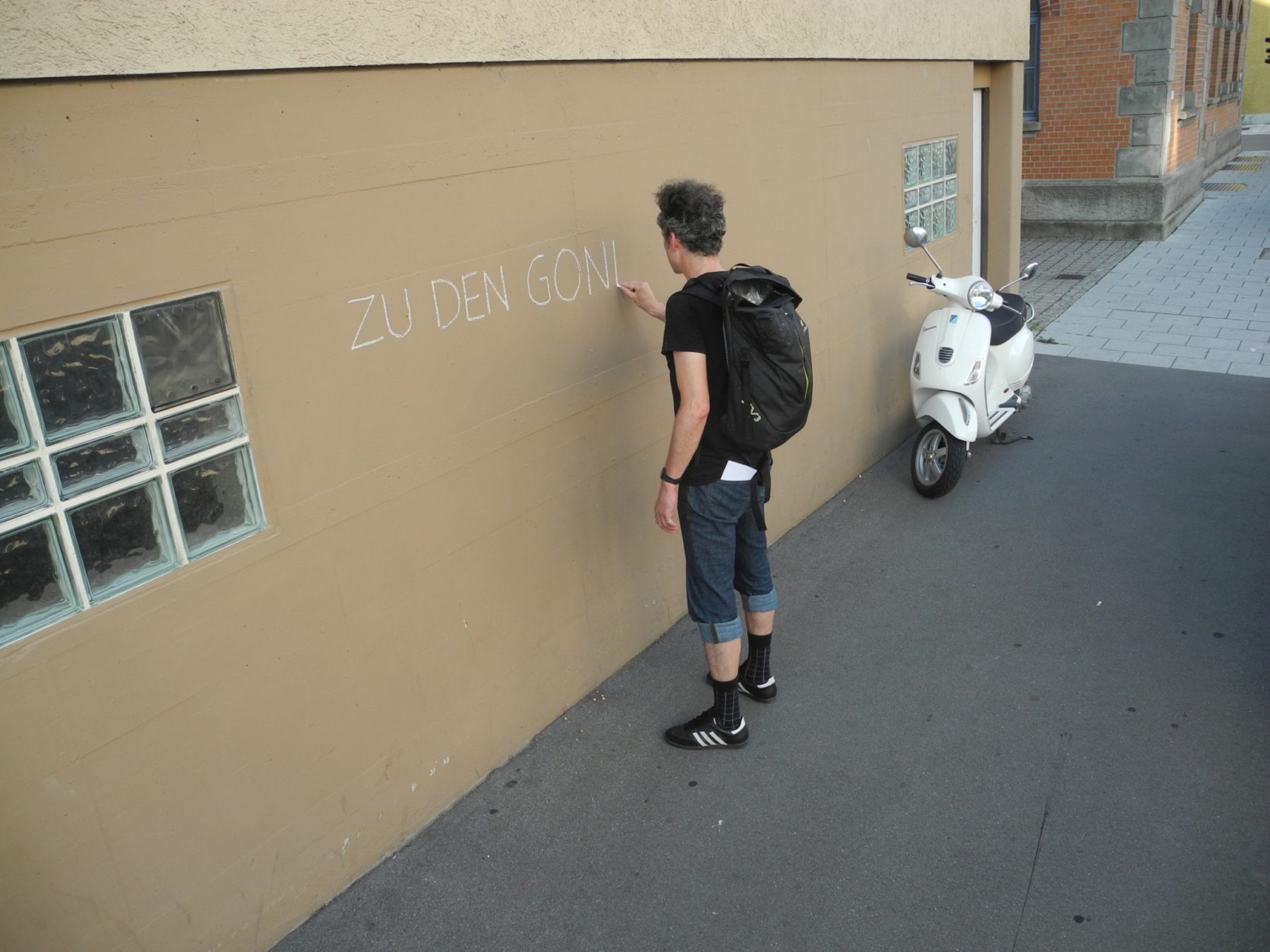 Max Erbacher became well-known with performances and surprising interventions in urban space. For example, he publicly advertises enigmatic promises: "Today I am your friend" – an action the artist is planning for the autumn as "Your friend in Neu-Ulm". Erbacher already explored the city in summer 2018 with a performative stroll. At the end, he washed the audience's feet in the fountain of Heiner-Metzger-Platz.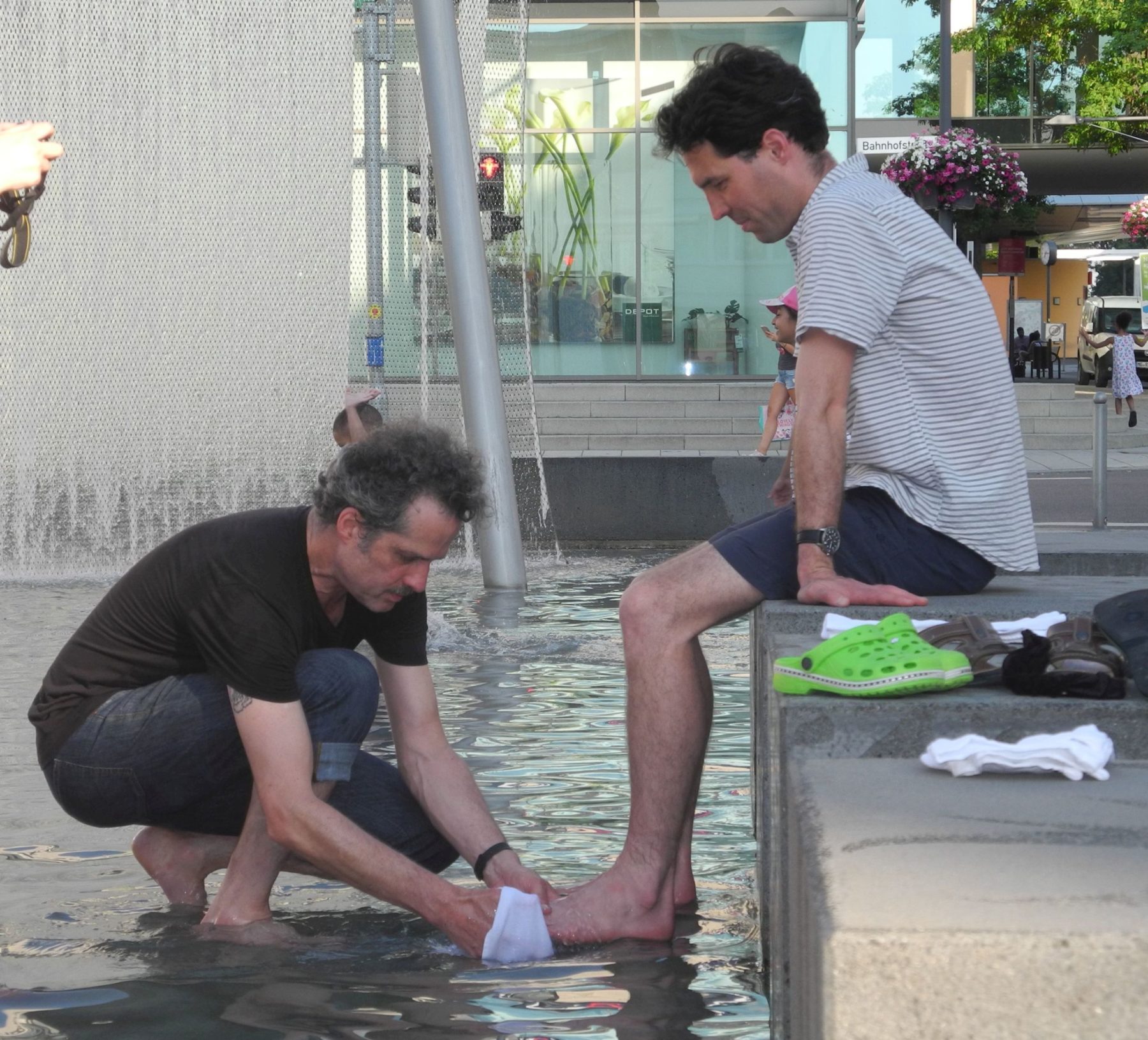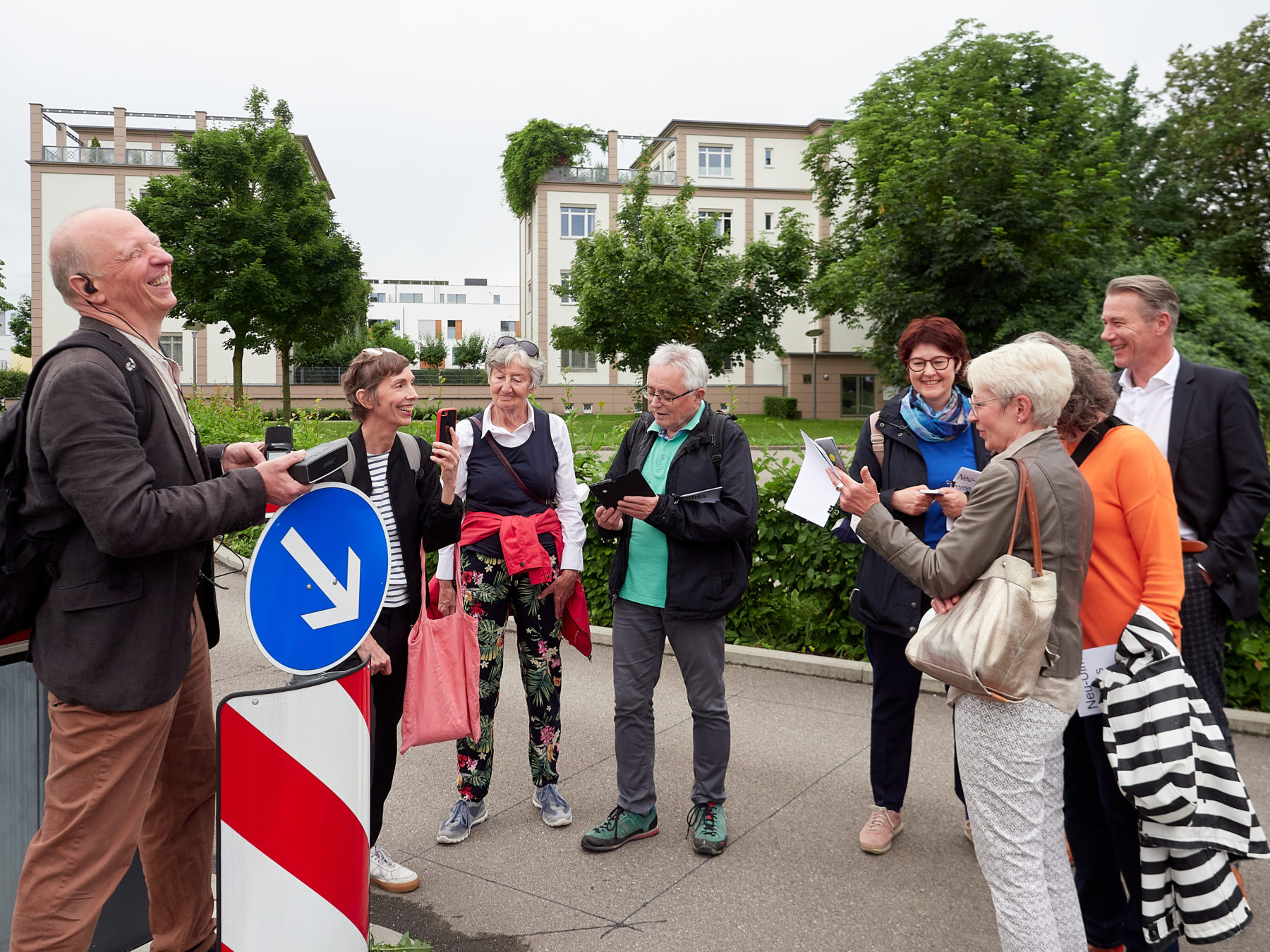 A close, open look at the poetry of everyday life characterises the art of Uschi Huber. Her photos, books, videos and actions in public space create new relationships with a few staging ingredients, often with a finely dosed, laconic pinch of humour. For example, she made street cleaning machines perform a ballet that she had choreographed in detailed sketches beforehand or oganised a live-stream stroll via Neu-Ulm and New-Ulm, USA.
Street art forms the background for Gigo. While such activities usually take place in secret, the Essen-based artist uses the public conversation to let his actions grow into interactive processes. The exhibition documents for example his action "Learning to Read", which was also carried out in Neu-Ulm, a tutoring in deciphering tags and characters that we encounter again and again in our environment.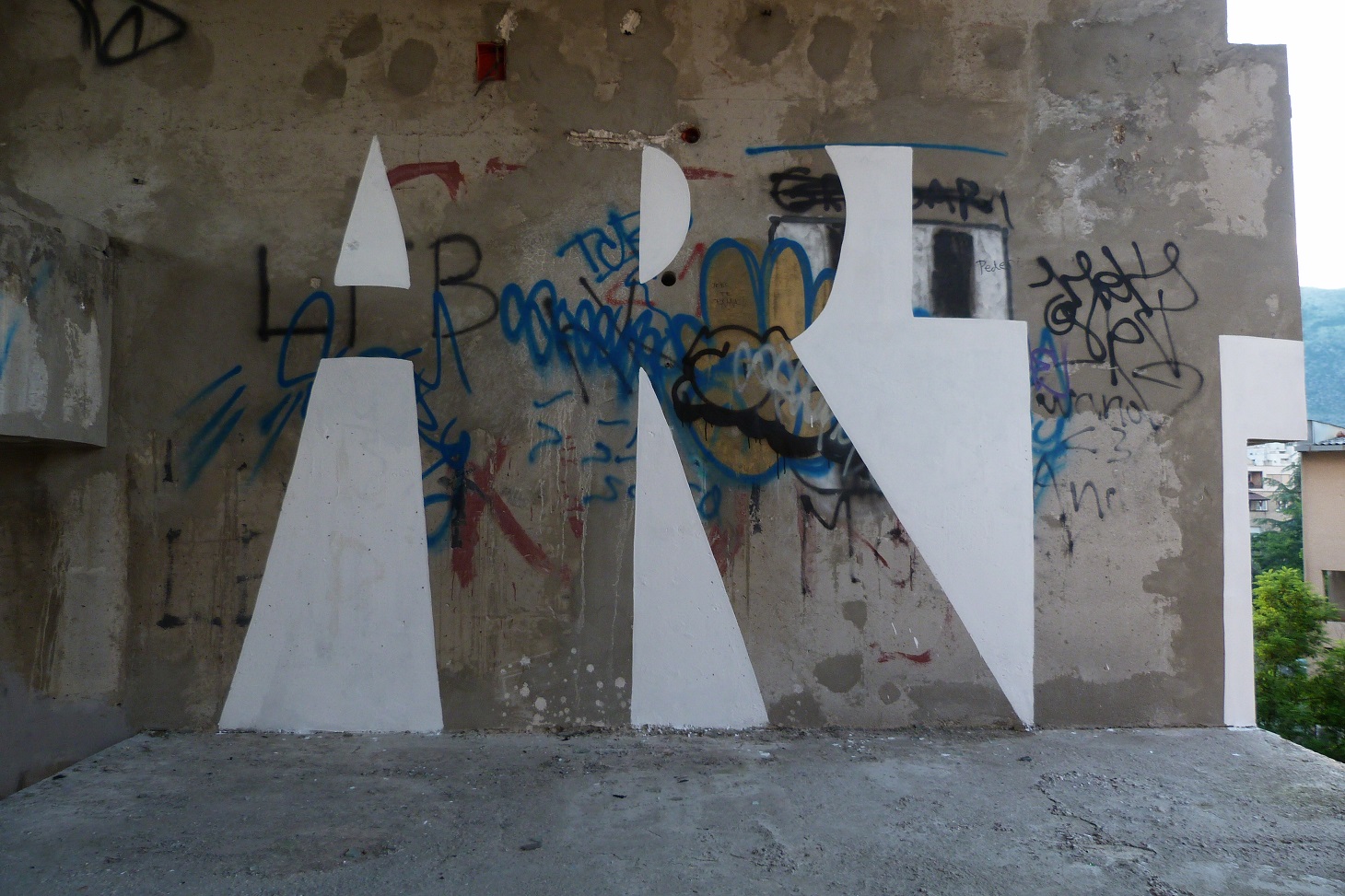 Since studying art and architecture, Dagmar Schmidt has always been concerned with open space. She became known to a wider audience with her highly acclaimed urban space installation "Grabungsstaedte" from 2002. After moving to Langenhagen/Hanover, she subjected the cityscape there to an in-depth examination with "Stitch View": she embroidered it.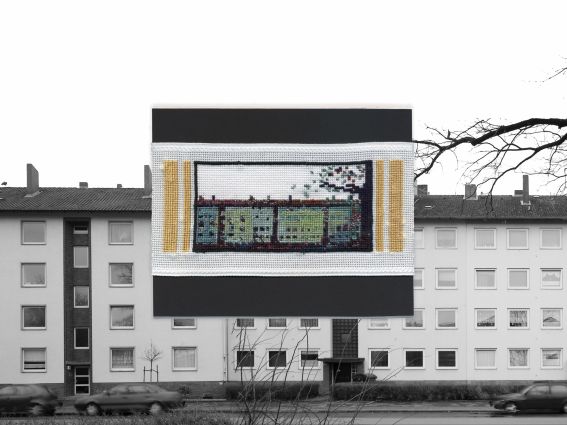 Filmic milieu studies, site-specific installations and interventions: Oliver Gather deals with human interaction. "I'll buy your car!": that's what it says on business cards that second-hand car dealers stick behind the windscreen wipers. For his Car Spam Story (2012), he collected these mass-produced items, modified them and irritatingly designed them as watercolours and unique pieces. Similar cards by Gather will find their way back to the windscreens in Neu-Ulm.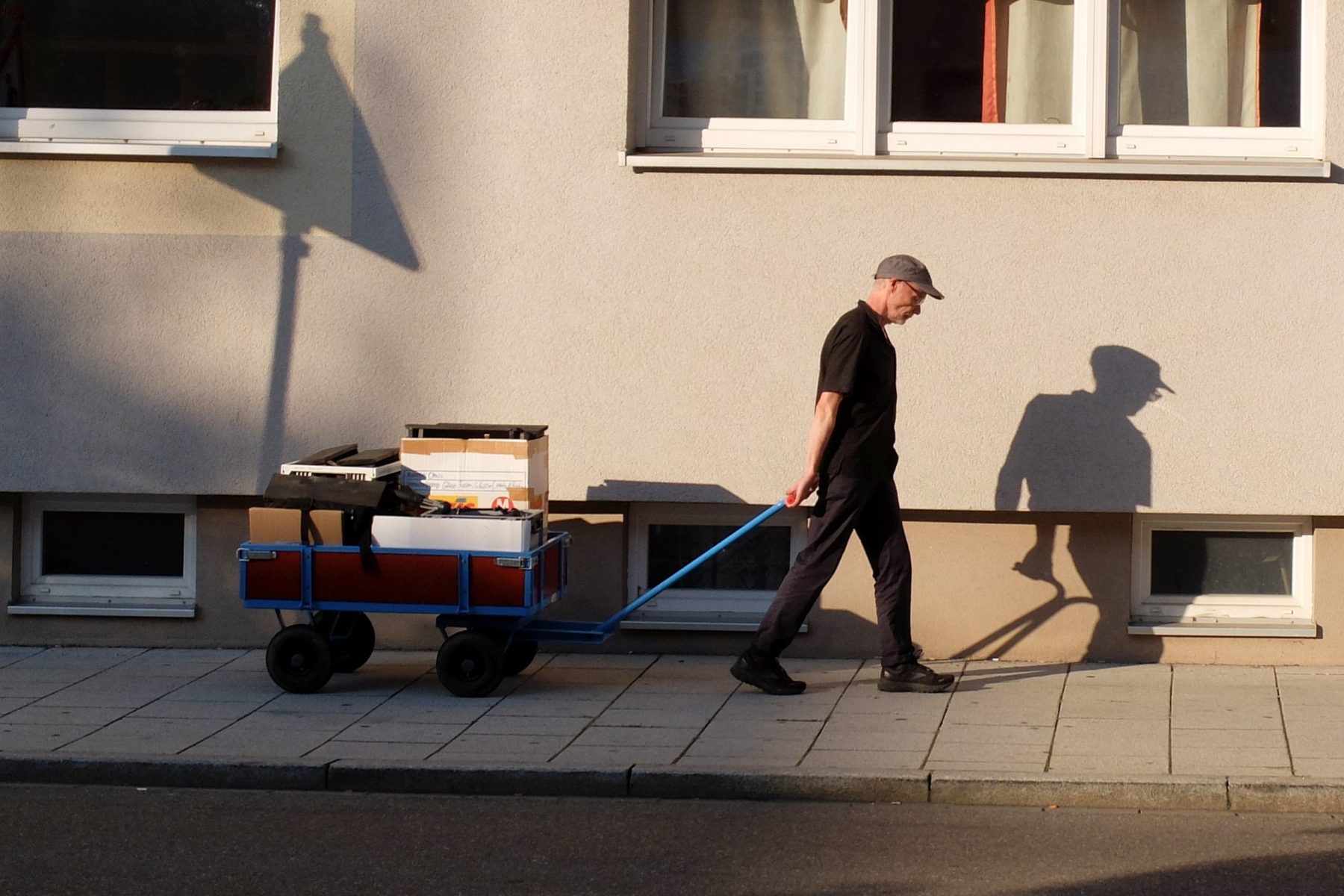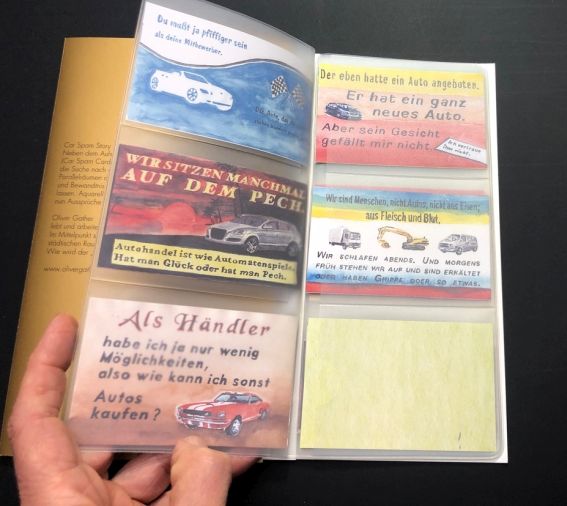 "Public interventions": Christian Hasucha's long-standing series of works comprises almost 80 major projects and has thus coined the term for art in public spaces. In Neu-Ulm, the Berlin artist is showing for the first time the accompanying series of advertisements documenting for these playful interventions in urban events. Exemplary for his interventions in urban space is the video documentation of "Herr Individual geht".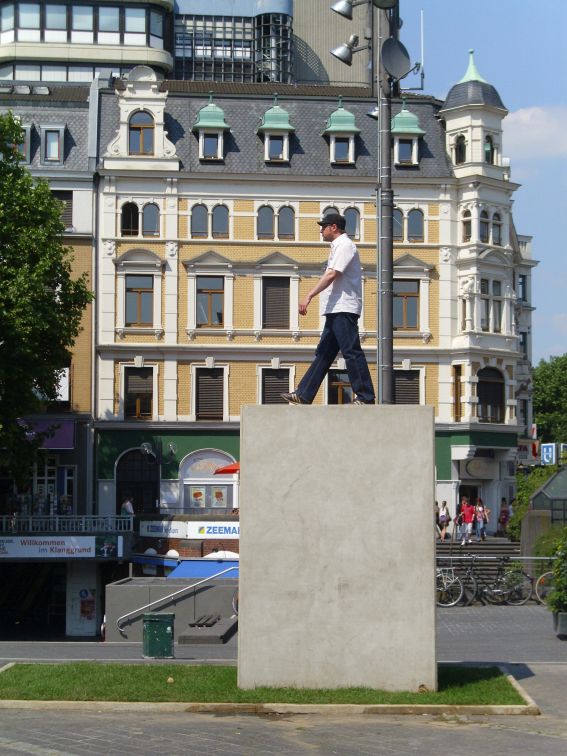 The exhibition was curated by Dr. Johannes Stahl on behalf of the Edwin Scharff Museum.
---
Guided tours, workshops und special events
Sorry, nothing to display.