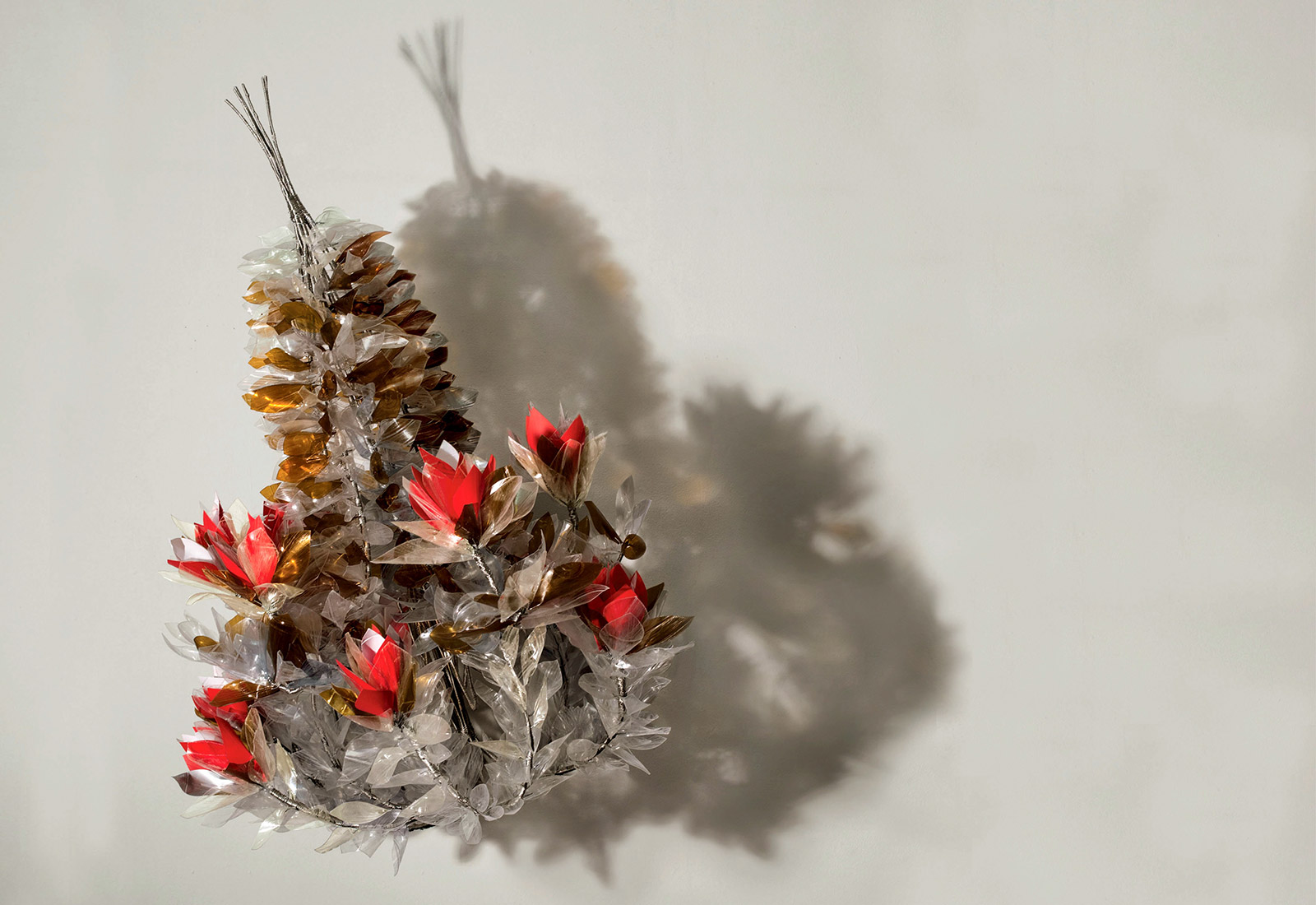 Special exhibition art museum
—
Patricia Thoma
–
Beautiful beguiling shine
How we dress is an expression of our personality. Clothes and fashion accommodate our joy in adornment and beauty and allow us to slip into new identities. The exhibition "Beautiful beguiling shine" is about very special clothing sculptures and a complex network of relationships of transformation and deception, of private action and global interacting.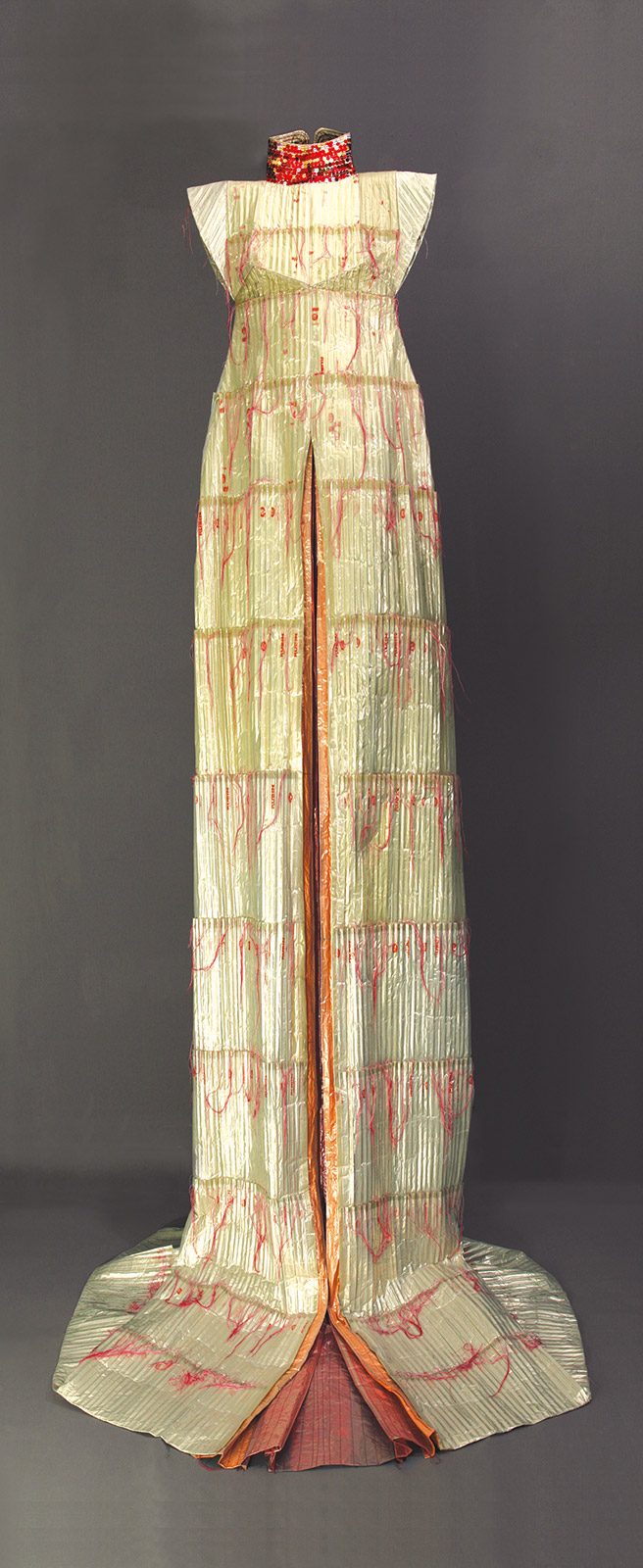 The Berlin based artist, illustrator and author Patricia Thoma invites visitors to the Neu-Ulm Museum to enjoy a feast for the eyes by showing magnificent festive dresses, precious gowns and opulent chandeliers.
Thoma's art, which suggests fairy-tale wealth and pompous festivities, only turns out to be a deception at third glance: the supposedly artistic glasses of the coloured chandeliers are actually elaborately wired elements made of plastic bottles. The pretended wedding dresses are made of finely sewn and embroidered plastic and rubbish bags. The only real things are furs and sequins – and the glamorous appearance of these objects.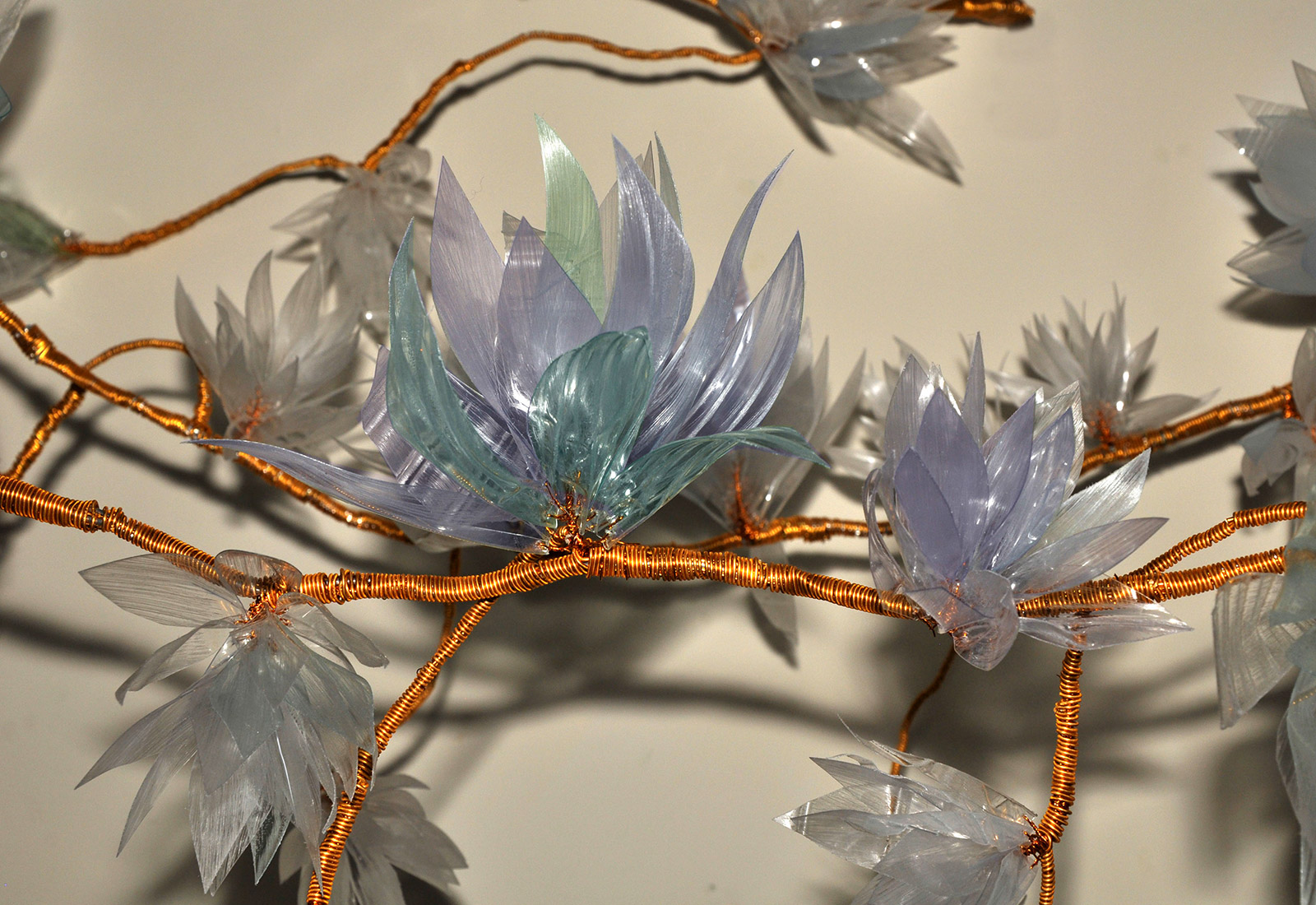 How do one create something that seems like a rare treasure from waste, mass-produced and cheap goods? Patricia Thoma charms and confuses: wedding dresses as well as rubbish bags are both meant for one-time use.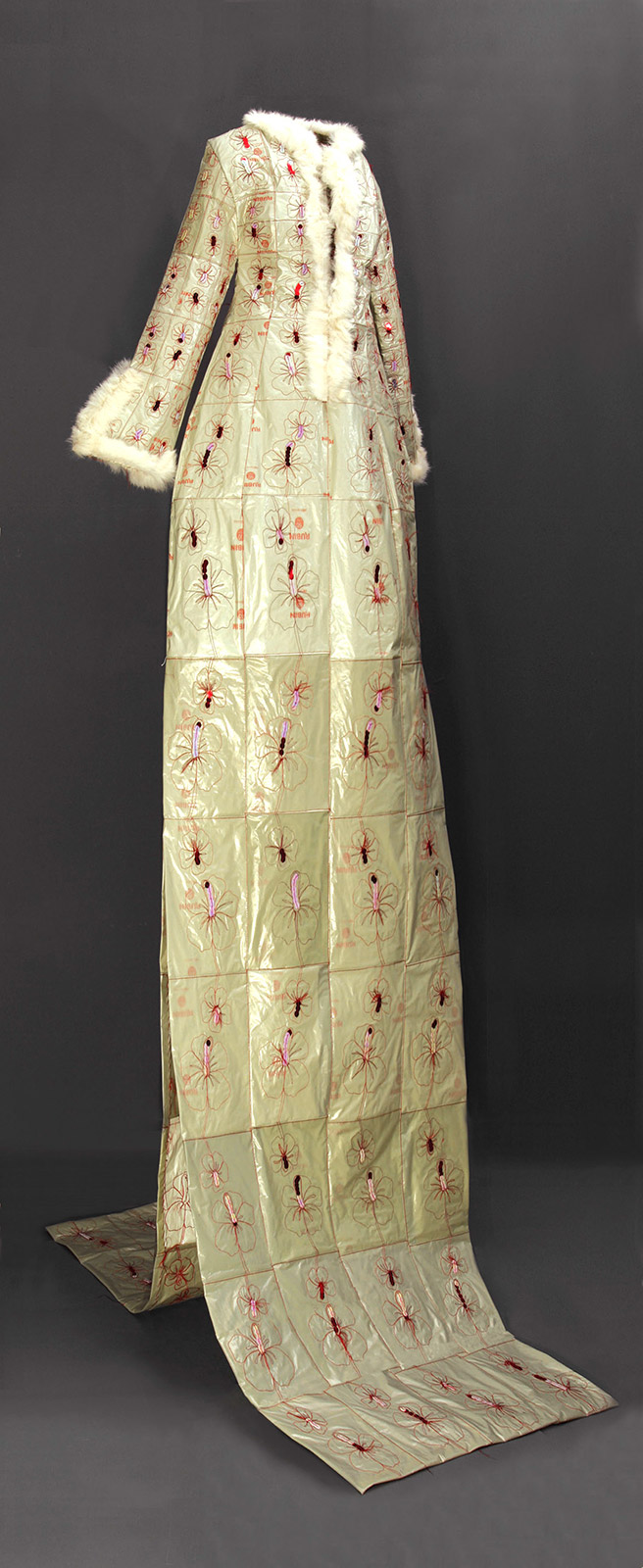 One of the oldest cultural practices is to create something new out of something old and worthless. The artist encounters the abundance of plastic and packaging waste again and again while travelling around the world.
Often visiting Asia, she is also familiar with the Japanese aesthetic of WabiSabi – seeking beauty in the worn and ephemeral. Thoma's drawings of collected plastic bottles or wildly proliferating buildings in slums also insist on the beauty of the pre-found. Paper craft has a long tradition in Asia. In another cycle of works, however, Patricia Thoma does not use handmade paper but discarded newspapers and creates extraordinary robes by scoring, cutting, perforating, gluing and painting. Are they worthless or valuable to us? How do we move in such a dress? How does it change our posture? How often can it be mended until it is worn out?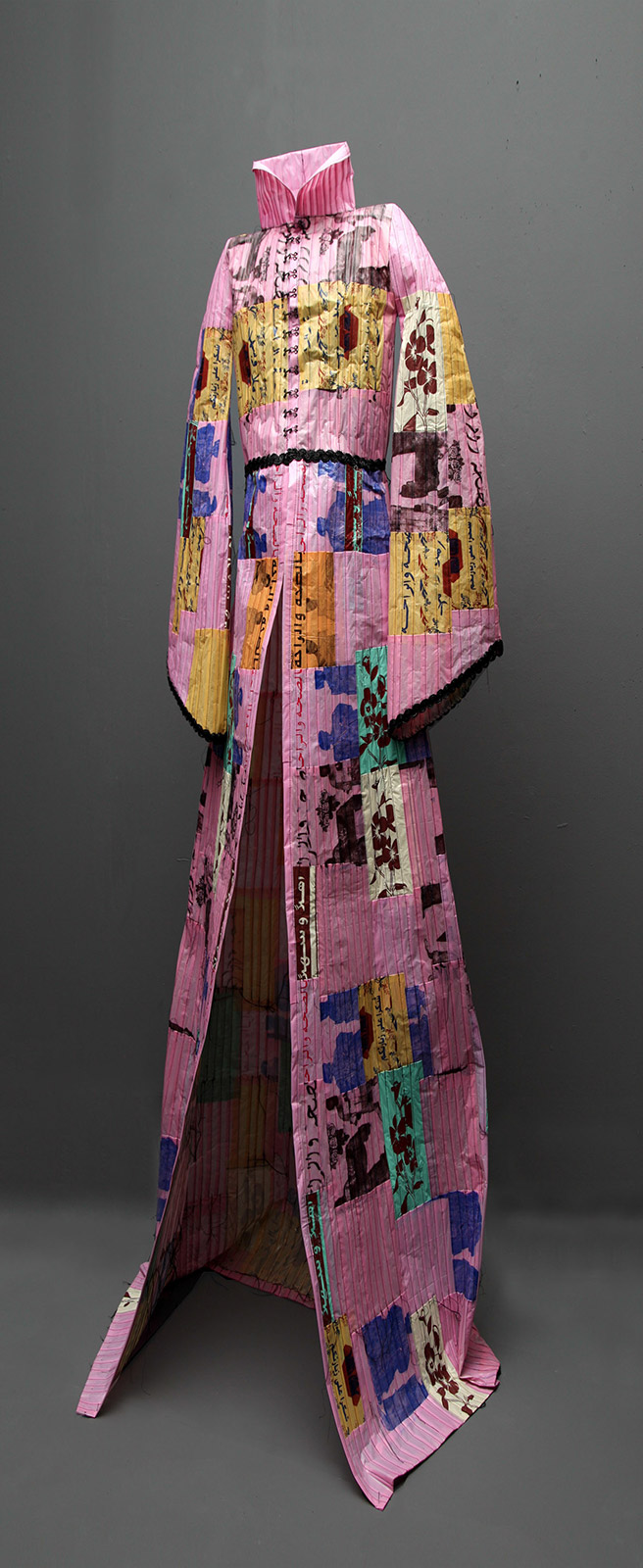 In addition to the amazing sensuality of Patricia Thoma's "upcycling", the exhibition encourages to reflect on the human need for beauty, but also on our own actions between appreciation and waste, and to reflect on the works in terms of ecological as well as socio-economic responsibility.
"Beautiful beguiling shine" is aimed equally at those interested in art as well as children and their families. A workshop room designed by Patricia Thoma invites visitors to explore the material paper and become creative themselves.
---
Headphoto: Patricia Thoma, Kronleuchter IV (Chandelier IV), 2016, 85 x 55 x 65 cm, plastic bottles (recycled), wire. Photo: Barbara Antal
---
Guided tours, workshops and events on the exhibition
guided tour . Patricia Thoma

:

Guided tour

special event . Patricia Thoma

:

Literary Journey: The pleasure of beautiful appearances

guided tour . Patricia Thoma

:

Guided tour

special event . Patricia Thoma

:

art.mosphere

On this evening, the art museum and café will remain open until …

read more

guided tour . Patricia Thoma

:

Guided tour

guided tour . Patricia Thoma

:

Guided tour with written interpreter

The tour is accompanied by a written interpreter. Hearing impaired people can …

read more

guided tour . Patricia Thoma

:

Guided tour

special event . Patricia Thoma

:

Literary Journey: The pleasure of beautiful appearances

special event . Patricia Thoma

:

Literary Journey: The pleasure of beautiful appearances

special event . Patricia Thoma

:

Literary Journey: The pleasure of beautiful appearances